Support from our Jury Member Shirin Ebadi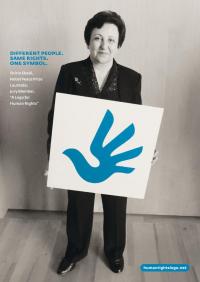 On the side of a panel about the EU's human rights strategy in Berlin, we go to meet Ms Ebadi and took her picture with the human rights logo. We already greatly appreciated her support as a jury member during the competition, and are now honored to have her as a testimonial.
Ms Shirin Ebadi won the Nobel Peace Prize in 2003, "for her efforts for democracy and human rights, especially the rights of women and children, in Iran and the Muslim world in general". She was the first Iranian, and the first Muslim woman to receive the prize.
Favourite quote from her Nobel Lecture: "If the 21st century wishes to free itself from the cycle of violence, acts of terror and war, and avoid repetition of the experience of the 20th century - that most disaster-ridden century of humankind, there is no other way except by understanding and putting into practice every human right for all mankind, irrespective of race, gender, faith, nationality or social status."